Wèi's Giant Jump
Season
One
Episode Number
2
Premire Date
March 13, 2012
Next Episode
Cannonbug
Preview Episode
Chop Chop
Writer by
Paul Shuttleworth
Wèi's Giant Jump is the second episode of the season one of The Lingo Show.
Wei performs a spectacular long jump, while Lingo is curious as to how a carrot and an elephant will be used in the stunt.
Chinese bug Wèi wants to put on a bug-tastic chopping act for the Big Bug Show, so Lingo sends him off find what he needs at the restaurant and the Chinese shop.
Characters
Edit
Major appearance
Edit
Minor appearance
Edit
It is the only one one error of a season 1 in The Lingo Show; for reason, Wèi's helmet Chinese character, "虫" (chong in romeiji mode) was on the mirror side.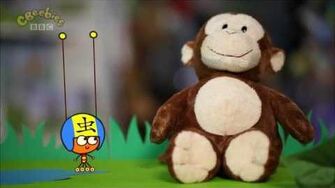 Ad blocker interference detected!
Wikia is a free-to-use site that makes money from advertising. We have a modified experience for viewers using ad blockers

Wikia is not accessible if you've made further modifications. Remove the custom ad blocker rule(s) and the page will load as expected.