WARNING: THIS ARTICLE LACKS OF IMAGE

Please help this Wiki by uploading additional images and adding them to the pages of the article.
Questanets is the eleventh episode of The Lingo Show.
Spanish bug Queso wants to put on a flamenco-dancing show in honor of his Spanish culture. But, he doesn't have castanets and a prop to make the stage look pretty. What will he find, and what Spanish words will he use along the way?
Characters
Edit
This episode is available on YouTube under the name of "The Lingo Show in Stalybridge".

It was filmed at Cheethans Park and Music Corner on Melbourne Road in Stalybridge, England, UK.

The title is a pun on either "Queso" or "quest" (referring to Queso's quest to find castanets) and "castanets".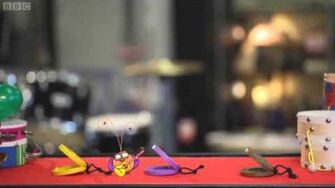 Ad blocker interference detected!
Wikia is a free-to-use site that makes money from advertising. We have a modified experience for viewers using ad blockers

Wikia is not accessible if you've made further modifications. Remove the custom ad blocker rule(s) and the page will load as expected.