Can't Can't is the sixth episode of the Lingo Show.
Jargonaise decides to put on a can-can show for her big bug show. But, she wants a curtain to go up before she performs and a prop to dance with. She ends up choosing a red curtain and a flower to dance with.
Characters
Edit
This episode's title is a pun on "can-can".
This was the first Jargonaise episode
This Episode reveals Jargonaise is alergic to dogs.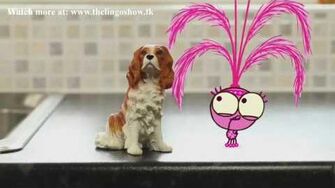 Ad blocker interference detected!
Wikia is a free-to-use site that makes money from advertising. We have a modified experience for viewers using ad blockers

Wikia is not accessible if you've made further modifications. Remove the custom ad blocker rule(s) and the page will load as expected.